---
Highlights
ใช้เทคโนโลยี BIA สามารถวัด ดัชนีมวลกาย กล้ามเนื่อ น้ำ กระดูก ไขมัน เผาผลาญพลังงาน ในร่างกาย
ใช้วัสดุเกรดพรีเมี่ยม ผลิตจากพลาสติก ABS
เชื่อมต่อผ่านบลูธูท
หน้าจอ LED แสดงผลเมื่อขึ้นชั่ง
เก็บข้อมูลผู้ใช้งานได้ถึง 16 คน
ดูผล Real Time ได้ที่ App
ดูง่าย วิเคราะห์ข้อมูลโดยใช้กราฟ
Details
1. วิเคราะห์ร่างกายได้ถึง 9 ค่า
ใช้เทคโนโลยี BIA (Bioelectric Impedance Analysis) เป็นการใช้สัญญาณไฟฟ้าระดับต่ำส่งผ่านไปยังร่างกายผ่านแผ่นโลหะทั้ง 4 แผ่น ที่อยู่บนเครื่อง วิเคราะห์ น้ำหนัก, ดัชนีมวลกาย, อัตราการเผาผลาญพลังงาน, มวลกล้ามเนื่อ, น้ำในร่างกาย, มวลกระดูก, ปริมาณน้ำหนักไขมัน, ไขมันที่เกาะอยู่ตามอวัยวะภายในบริเวณช่องท้อง แล้วสรุป ออกมาเป็นคะแนนร่างกายครับ
The scale uses advanced BIA technology to analyze a number of important parameters including body weight, BMI, bone mass, body water, muscle mass, basal metabolism, body fat rate, visceral fat level, figure, and body score.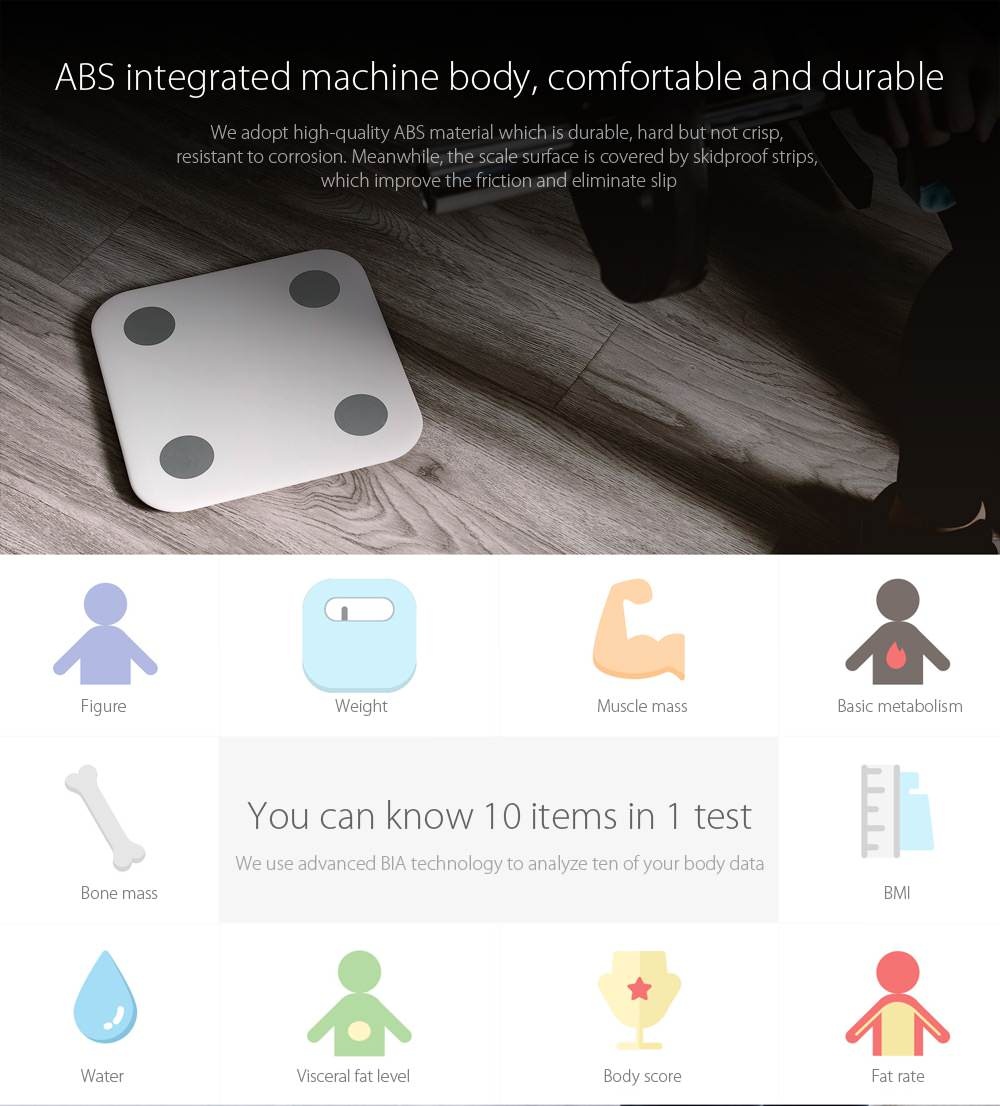 2.  ใช้วัสดุเกรดพรีเมี่ยม
ผลิตจากพลาสติก ABS เนื้อสัมผัสไม่ลื่น  และ แผ่นโลหะ  stainless steel 304L ที่มาพร้อมกับดีไซน์โค้งที่ขอบ เพื่อปลอดภัย และสวยงาม  
A smooth white ABS panel and safety-conscious rounded corners give the scale a sturdy feel and beautiful aesthetics.
The top of the scale sports an anti-slip texture with 4 embedded 304L stainless steel electrodes - they are the ones responsible for correctly measuring all the extensive data about your body.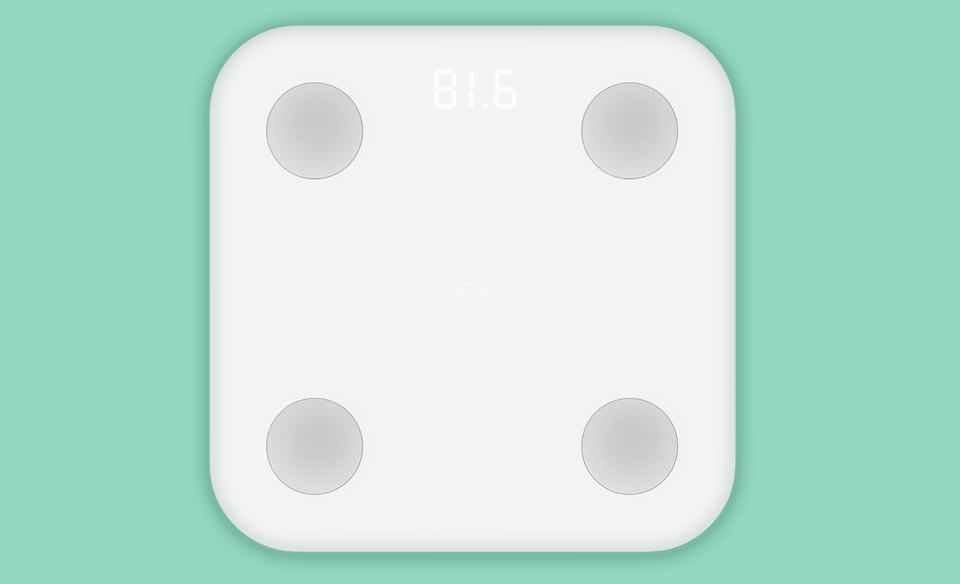 3. หน้าจอ LED
แสดงผลเมื่อขึ้นชั่ง
Just step onto the scale and see your weight displayed clearly on the LED screen cleverly hidden underneath the main panel.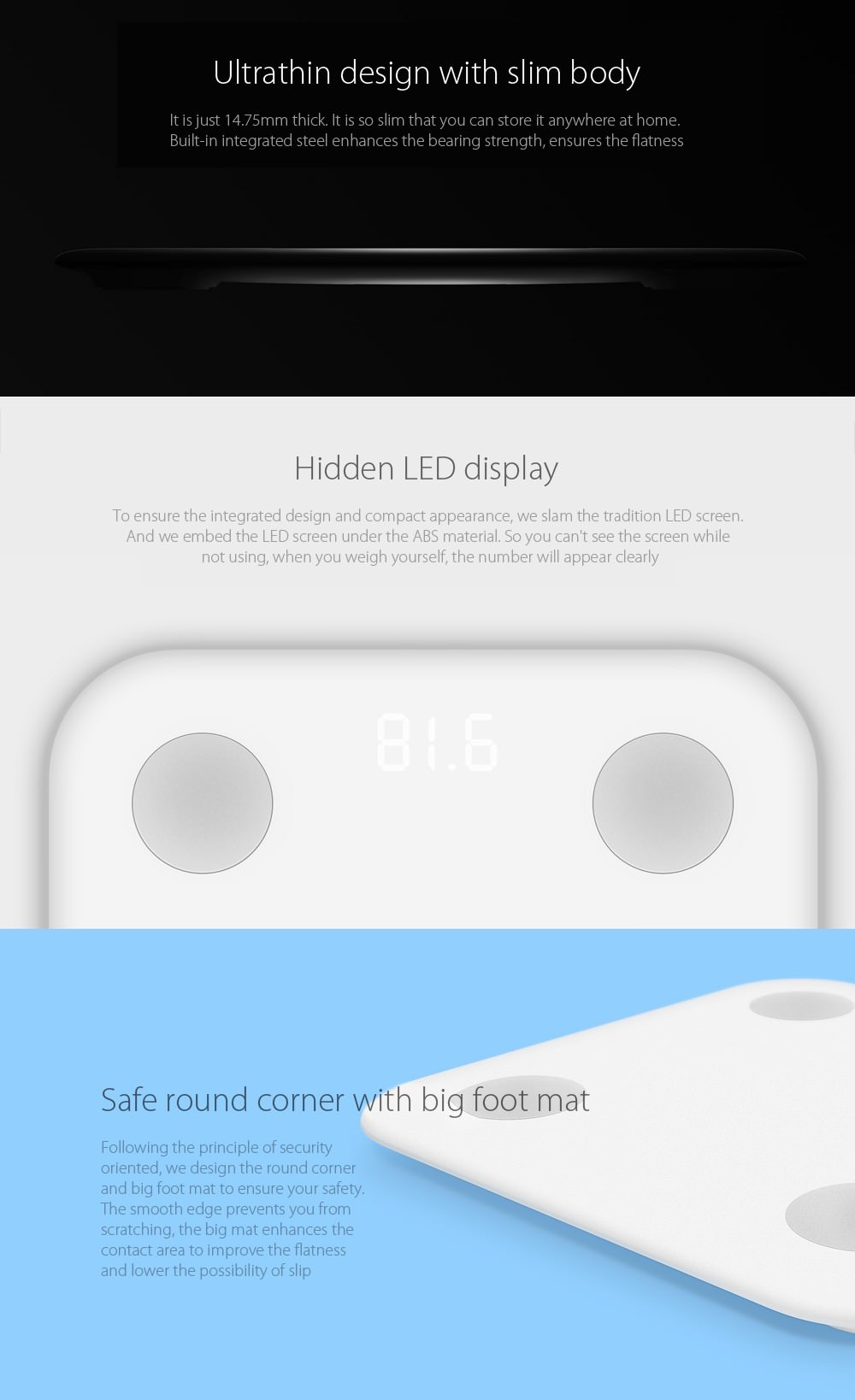 4. ใช้แบตเตอรี่ AAA 4 ก้อน  
The back of the scale is equipped with four large feet and a battery compartment, of which four feet are the major part of the whole weight scale.
5. ขนาดเล็ก 
เพียง กว้าง 30 x ยาว 30 x สูง 1.5 ซม. ด้วยน้ำหนัก 1.6 กิโล
Measuring just 300mm x 300mm x 14.75mm, Xiaomi Smart Body Fat Scale tips the scales at 1.6kg.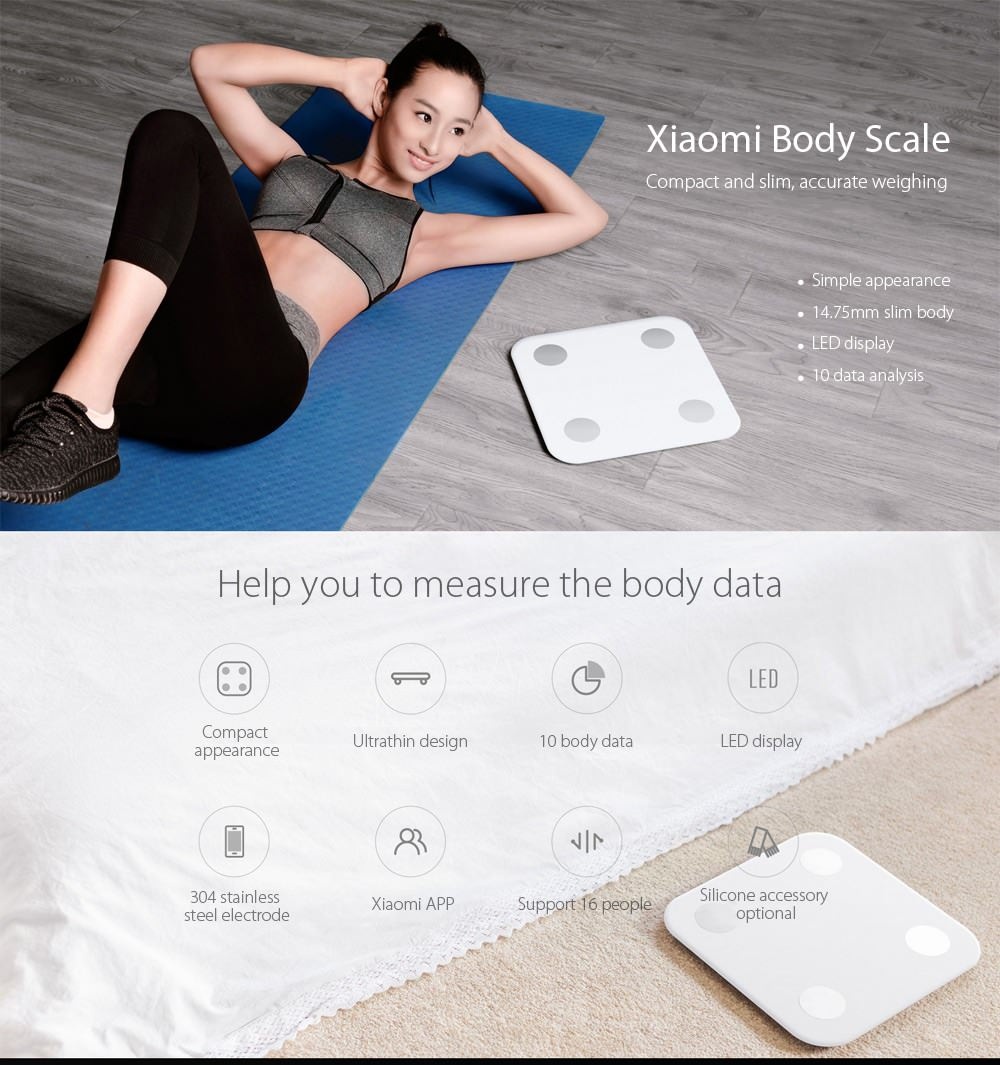 6. เชื่อมต่อผ่านบลูธูท
วิธีติดตั้ง Mi Smart Scale 2 http://www.gearbest.com/blog/how-to/how-to-bind-xiaomi-body-fat-scale-with-xiaomi-app-mi-fit-1378
you can head to How to bind Xiaomi body fat scale with Xiaomi App Mi Fit and follow the described steps
7. อ่านข้อมูลสะดวก
ดูข้อมูล Real Time ได้ที่ App ไม่ต้องกล้มดู
Mi Fit is built for your ultimate convenience - no need to bend down to check the results on the LED screen, instead you can see them from the app in real time.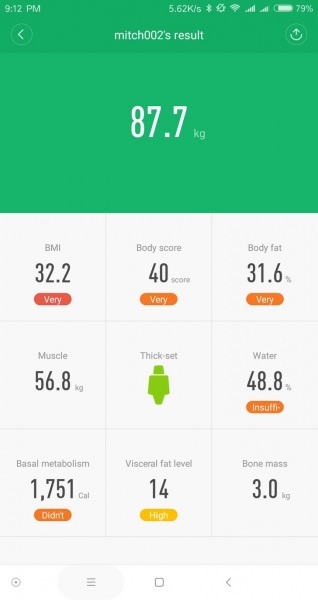 8. เก็บข้อมุลผู้ใช้งานได้ถึง 16 คน
All of your weight data can be saved in Mi Fit app, which support storing up to 16 different people profiles. 
9. สามารถวิเคราะห์ข้อมูลโดยใช้กราฟ
If you prefer to see the bigger picture, rather than numbers, Mi Fit can display all the data in a simple line graph.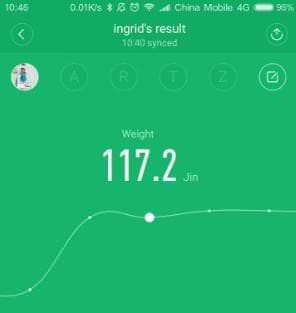 10. Mi App ประมวลผล สรุปให้คะแนนร่างกาย (9 categorys)
The app will categorize your body type into Obese, Overweight, Thick-set, Lacks exercise, Balanced, Balanced muscular, Skinny, Balanced skinny and Skinny Muscular in terms of body fat rate and muscle mass.
---
Share this Product
---
More from this collection