---
Beautiful Swiss-made watches that double as fitness trackers
HIGHLIGHTS
เป็น activity tracker กับ นาฬิกาข้อมือในอันเดียวกัน
วัด นับก้าว ระยะวิ่ง ระยะว่ายน้ำ 
บอกจำนวนแคลอรีที่เผาผลาญ 
ช่วยวิเคราะห์การนอนหลับ 
แบตเตอรี่ยาวนานถึง 6 เดือน 
ใส่ลงน้ำได้
DETAILS
1. แสดงผลมันเป็น Analog ทั้งเวลา และ จำนวนก้าวที่นับได้ เมื่อถึง Goal ที่ตั้งไว้นาฬิกาจะสั่น
       For the most part it looks like a standard analog watch. There's also a second dial on the bottom right of the face that shows you how many steps you've taken for the day. You'll need to set them from within the Withings app, but once that's done, the Steel will vibrate 12 times when it goes off.
2. ตัวเรือนทำจากสแตนเลส 316L และ กระจก Sapphire สายทำจากซิลิโคน น้ำหนักเบาใส่สบาย  สายไม่เก็บฝุ่นและขน 
      The casing is made from 316L stainless steel and has domed sapphire glass covering the top of the device.
      The Steel is comfortable enough to wear all day, and at just 37 grams, it's light enough to go unnoticed. The silicone strap is also very soft, durable, and doesn't collect a ton of dust or hair, which we really like to see. It also comes with quick release pins that make it super easy to switch out straps if you're in a hurry.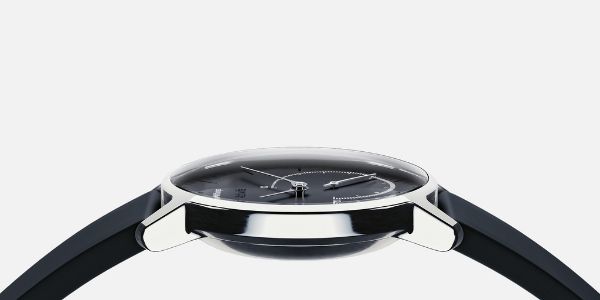 3. สามรถนับการก้าว ระยะการวิ่ง ระยะการว่ายน้ำได้ จำนวนแคลอรีที่เผาผลาญ รวมถึงการวิเคราะห์การนอนหลับ 
      The big news with the Steel is that it can track your steps taken, distance traveled, calories burned and your sleep. It can even recognize different activities like walking, running and swimming. 
      It's actually very good at detecting when you're sleeping and when you're a wake, and there's no need to tap a "sleep now" button like with other trackers. It will show you deep and light sleep, wake ups, and sleep duration.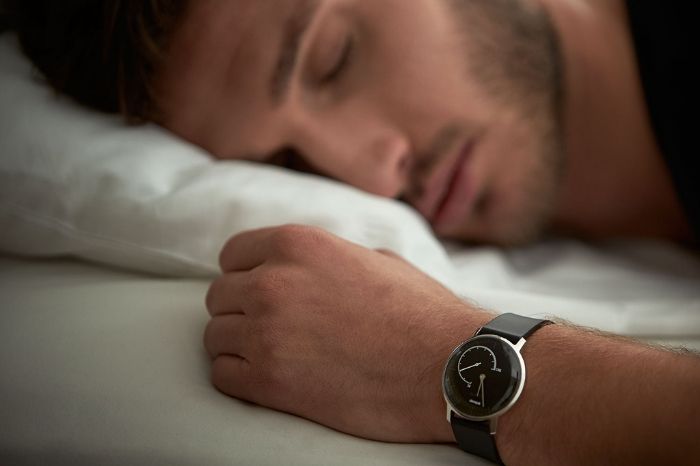 The Steel is water resistant up to 165 feet (or 5ATM).
5. มีระบบ tracking ที่แม่นยำ เมื่อเทียบกับ fitness trackers ยี่ห้ออื่น
      Step tracking with the Steel is very accurate. It's right in line with the competition. I also tested the Steel against the Fitbit Alta, Jawbone UP3, and Activité Pop, and all four fitness trackers gave me similar results.
6. นาฬิกาจะบันทึกข้อมูลต่างๆ ซึ่งสามารถเปิดดูได้ผ่าน App ของ Withings (รองรับ IOS และ Andriod)
      The Steel automatically records all of your workouts and syncs that information with the Withings companion app on your Android or iOS device. 
7. แบตเตอรี่ยาวนาน อยู่ได้ถึง 8 เดือน 
      It uses a CR2025 button cell battery, which Withings says will get you up to 8 months of battery life. 

---
Share this Product
---
More from this collection